Liam from Vesper Marine walks us through Horn and Hailer on board a Nordhavn 47 in Auckland.
Cortex software version 1.7 enables the activation of Hailer and Fog-Horn capability on all existing Cortex M1 hubs. The free update also includes enhancements to VHF control and Sensor flexibility.
Loudspeaker Mode
The key new feature of the software update is the addition of a Loudspeaker Mode, which enables Horn and Hailer control of a speaker connected to the Cortex Hub. It makes use of hardware that was included in all Cortex Hubs from the first day of manufacturing. Horn and Hailer can be operated from the new Loudspeaker menu on Cortex Handsets and the Cortex Onboard app on smartphones. In an emergency, a boater can alert surrounding vessels without necessarily being at the helm by either using their smartphone or the portable H1P Cortex Handset.
"Loudspeaker Mode isn't the only new hardware-related feature we will be unlocking in Cortex. We intend to make it easier to connect other devices to Cortex in the future.
Our focus now moves to delivering Channel Scanning and Intercom capabilities in the near future. Cortex is an integrated software defined system which allows us to add features in a way simply not possible in other VHF's. For example, with our next update instead of continually switching channels looking for breaks in squelch, Cortex will monitor all channels simultaneously in the background. For features like Intercom, we plan to make these accessible via the Cortex Onboard App as well as between handsets, making it more usable for boaters. Next year we will start to release updates that do truly remarkable things, unheard of in VHF because they simply aren't possible on legacy hardware platforms."
- Carl Omundsen, Chief Technical Officer
Consistent with our desire to make VHF features easy to use, Hailer and Horn are tightly integrated into the Cortex experience and are directly available from the collision avoidance screen. Where multiple handsets are installed, one handset can remain on the collision avoidance screen, while another uses the Hailer or Horn.
The Cortex Hub has always included an audio output port and a second 30W power amp channel (the first 10W power amp channel is used by the Hub's built-in alert speaker). To use Loudspeaker Mode, Cortex owners simply need to connect a 30W capable, 4 Ohm speaker and update their Cortex to version 1.7. As with all Cortex updates, the process is easily done using the Cortex Onboard app.
Horn
The Horn function conveniently shows the lengths of sounds that each message entails. After tapping the horn message, Cortex will visually show progress through the active signal, helping boaters interpret horns from other vessels. Relevant messages will repeat until stopped and a manual horn sound can also be activated.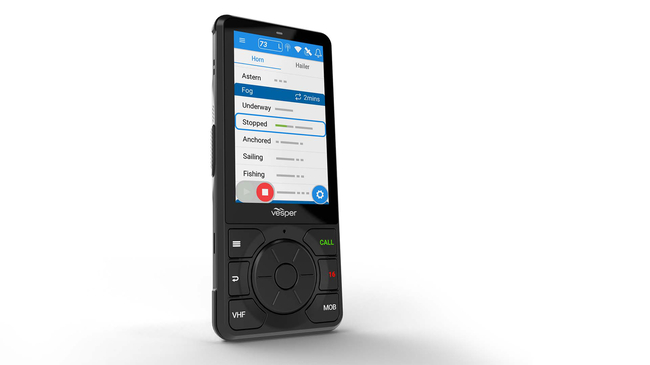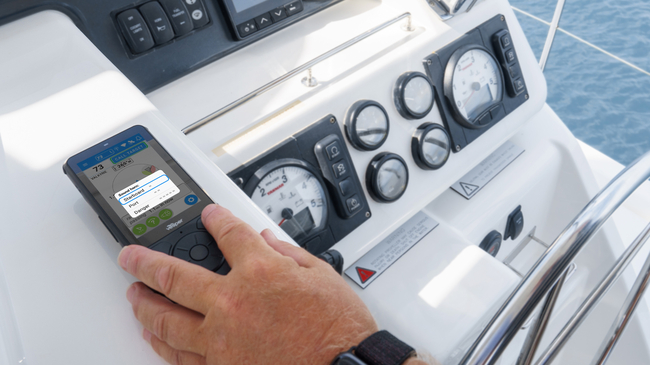 Hailer
The Hailer function can be activated by either touching the microphone icon in the Handset or Cortex Onboard App display, or by pushing the Cortex Handset's PTT.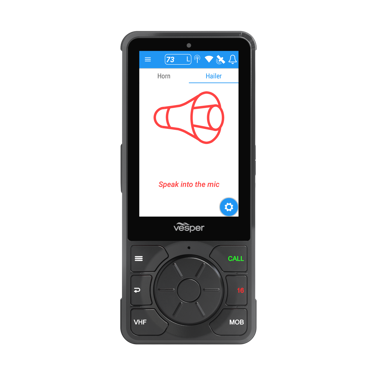 VHF Enhancements
VHF Enhancements include Channel Lock and Mute. Channel Lock prevents the click-wheel and touchscreen from changing the VHF channel, eliminating accidental changes while handling or in rough seas. Muting the VHF now also silences non-distress DSC calls, enabling boaters to sleep at night knowing their alarms and distress DSC calls are active, but without VHF chatter.
Sensor Enhancements
Sensor Enhancements provide greater flexibility for use. Users can select the preferred external instrument for monitoring when there is more than one connected via NMEA 2000 or NMEA 0183. The Hub's internal Barometer and Heading sensors are now available via NMEA 2000 and WiFi, making them accessible to third-party apps. Fine-tuning of the internal Battery and Barometer sensors enables boaters to adjust for long cable runs (reducing voltage) or the location of their Hub (which may affect air pressure). These can both now be viewed on the Handset Instruments page.
Cortex Software Updates
See more detail on upcoming and already released software features in Cortex here
Cortex Software Release Notes
For a full set of Software Release Notes on Cortex Software 1.7, see here